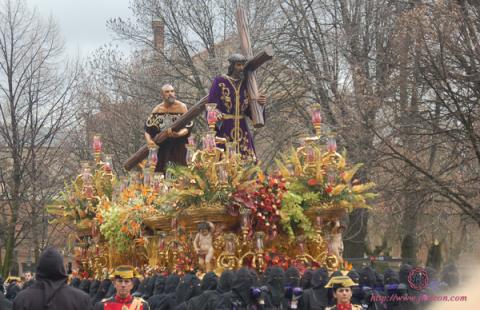 Nuestro Padre Jesus Nazareno, step holder of the Brotherhood, is composed of two images. Jesus with the Cross of Calvary Road, and Simon of Cyrene helping in such a painful task.

The image of Jesus is a seventeenth century work, of which little is known, very few documents to be preserved from this period, although its authorship has been linked to several school Spanish sculptors, with varying success. From Gregorio Fernández several of his followers, being attributed by Professor of Art Fernando Llamazares to Pedro de la Cuadra.

In 1983 José Javier Rivera, Ph.D., Professor of Art History, writes a report on the image, wherein the data around the second quarter of the seventeenth century, between 1640 and 1650, attributing the gouge to a follower of Gregorio Fernández imitator of its forms, so fashionable in those days, where even copied Galician full steps, discarding both himself as Fernandez and Pedro de la Cuadra.

In 2011, art historians, Eduardo Álvarez Aller and César García Álvarez, made public the allocation of Nuestro Padre Jesus Nazareno sculptor Gregorio Fernández, in presenting a talk at the IV Congress of Guilds Nazarene held in León, expanded work which was published by the University of León in November 2012.

Until 1952 the Nazarene used a natural hair wig, without knowing from where this practice is used, although throughout the nineteenth century there are many references about maintaining said insert member.

The Nazarene current wardrobe consists of four coats, used in different cults ordinary in the Chapel of Santa Nonia, processional acts, and other parties triduums the Brotherhood.

The first reference to Cyrene's get in 1674, when the contract signed with Díez de Tudanca is charged with "a package also Cyrene to help carry the cross of Jesus of Nazareth." Tudanca of Cyrene know little or nothing, since the lack of documentation in the seventeenth and eighteenth centuries leaves us in the dark during these two centuries. If we point out that in the nineteenth century there was such iconography, although we can not say it was the same as the author of the Spoliation conduct. In 1860 he made minor repairs to hands, repainted in 1879, ...

This portrait of the late nineteenth century was in force until 1940, when it was decided to replace it with another image, in 1941, during the Abbey of Brother Enrique de la Puente, acquiring a papier-mâché figure of workshops from Girona to Olot.

In 1946 he contracted with Victor de los Rios a new image of Cyrene, currently being the procession, representing a tall, strong, athletic anatomy.

The step is carried, since 2000, in the ancient throne of the Brotherhood of San Gonzalo de Sevilla, Baroque conducted in 1948 by Manuel Guerra, Manuel Calvo gold by Camacho in 1976. The chandeliers are made by Manuel Guzmán Bejarano in 1972, being restored in 2010.
---